Manual Marine Toilets
Manual Marine Toilets by Raritan
With so many firsts in the manual toilet business it is no wonder we make the most popular manual marine toilet among avid boaters. Avid boaters are those who have discerning taste and know that manual toilets can be much better than what normally comes installed on the boat. Raritan makes a manual toilet that has many features not seen on competitive units. Most have a small handle that you simply lift up and down. For a typical weekend boater this type is likely sufficient. However, Raritan recognizes that an easy and efficient flushing action is far more pleasurable than pumping up and down 15 times. The Raritan PHII and PH Superflush both utilize the exact same pump. This pump is 66% larger than any competitive unit. That larger pump housing meant a lever type handle was required and makes flushing a very easy task. The increased size also means water flows in and out much more efficiently and a few strokes of the easy to pump handle means you spend less time pumping.
Recognizing that most builders install the most economical manual marine toilet Raritan felt it was time to introduce the PH Superflush, the original PHII pump on a base that will easily retrofit into the most popular builder versions of manual toilets. If you are tired of repairs and want a reliable easy to flush and easy to maintain toilet the PH Superflush is by far the best choice.
Manual Marine Toilet Options
A popular misconception with manual marine toilets is that you are stuck with a bowl too small for the average person to comfortably sit on these days! Raritan offers all of its manual toilets with either the small marine size bowl or the larger household size bowl. All of the Raritan toilets now come with a slow close seat and cover along with a small stop on the bottom of the seat to help prevent and minimize the seat from sliding sideways when the boat suddenly rocks while you are sitting on it.
If your desire is a manual toilet that accepts onboard freshwater then the Fresh Head is the only one to choose. A first in the industry this toilet allows connection to your onboard fresh water and also provides a lock out feature to prevent water from coming into the toilet thru the discharge. This diaphragm action toilet is the first of it's kind and has been extremely popular for those that have enough onboard water to never worry about using it for the toilet.
On the outside chance you want an electric toilet with the option to go manual we have that too! The PH Superflush is also available as the PH Powerflush. This convenient option allows the user to install an electric gearbox that does the pumping for you with the push of a button. Should there be a power concern or issue you can easily disconnect the arm and put the handle back in and flush the toilet manually. This option of electric convert to manual comes in handy for many applications. The most important thing to remember is even in the manual mode the PHII and PH Superflush are the simplest pumping action toilets on the market today and the preferred brand of discerning boaters.
Operation of Manual Marine Toilets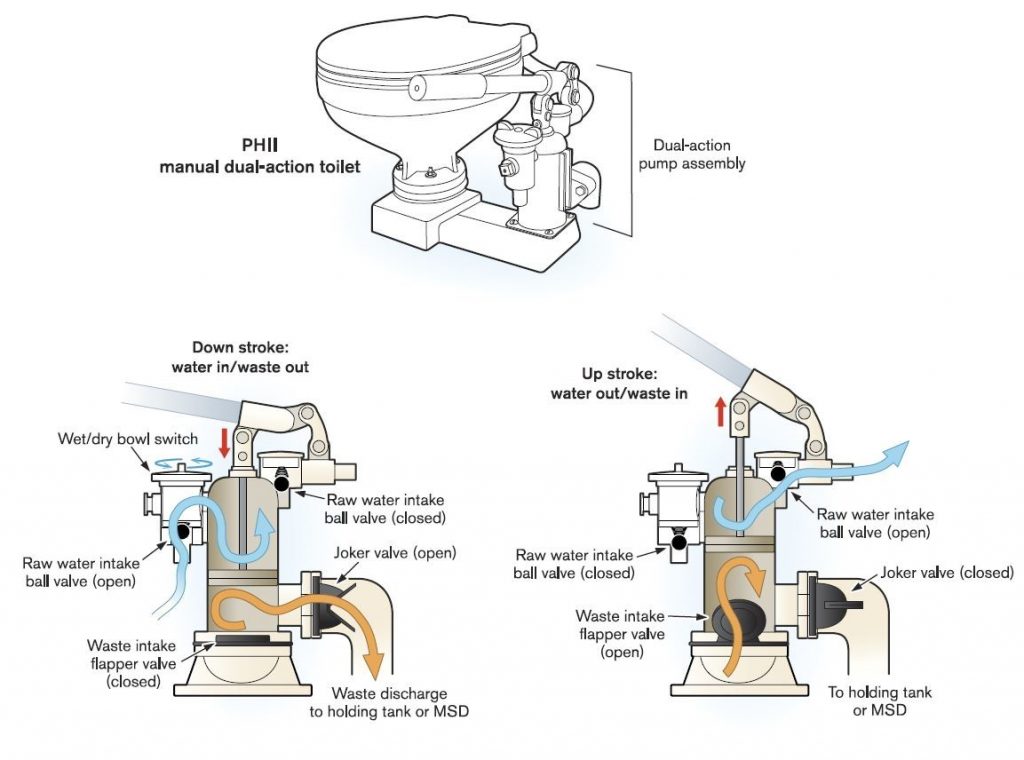 Larger Pistons and telescopic handle:
Both, PHII and fresh manual marine head displaces large amounts of volume per flush. PH piston and Fresh Head diaphragm is 66% larger than competition's manual head. This allows user to flush out solids and liquid in less number of strokes. For effortless pumping in most challenging plumbing installation, Raritan manual toilets offers telescopic handle which is lot easier to pump compared to T -handle or knob on the top of piston. Telescopic handle allows user to keep handle out of the way in close compartment head room.
Superior Strength parts:
Parts for Raritan marine heads are made out of high tensile strength polymer. Our pumps in marine toilet can survive most forces in unusual conditions of clogging and restrictive hose and piping. High strength pump housing also does not get scored quickly in sandy sea water flushing requiring less frequent repairs and rebuild.
Engineered Rubber parts:
For trouble free operation, proprietary material is designed for full size 1 ½" Joker valve for long period of use. Joker valve is compactable with nontoxic antifreeze for winterization. It also performs without damage with recommended bowl cleaning chemicals. Quad seals are used for piston to prevent premature scoring of housing under sandy sea water use. Quad O ring also prevents rolling of O ring, a common cause of hard pumping. Fully embedded weight in our Flapper valve won't corrode and won't let flapper float in water, hence no need for flip and lock. Fresh head uses reinforced diaphragm for strength and long term use.
Dry Flush:
Raritan manual marine heads can operate without bringing in incoming flush water to allow emptying of bowl. PH series has unique feature of introducing air into flush water side of piston to make dry flush effortless.
Retrofit and replacement parts
Raritan offers retrofit and replacement parts for all our legacy models making upgrades and repair economical. Raritan also have all parts for production models available for shipment same day. Repair kits and upgrade kits are reasonably priced. PH SuperFlush and Fresh Head base are direct replacement for competitive toilets
Support:
Raritan Manual Marine Toilets come with the legendary Raritan customer service support. Customers can call Raritan customer service for entire life of product and speak to technical support personal free of charge. Average wait time for speaking to "live person" is less than a minute. All marine water heater parts as well as parts for Raritan marine toilets are stocked in US and available for same day shipping if necessary, but most orders for Raritan marine toilets as well as our other products are shipped within 24 hours, after receipt of order.
Additional Things to Consider for Marine Toilets
Marine Sanitation Devices (MSDs) and Waste Treatment Systems – Any boat with an installed toilet must have either a Type I MSD which treats the waste and makes it safe for overboard discharge, a Type II MSD used for the same purpose as a Type I but treats to higher standard and is typically designed for vessels over 65′ or a holding tank Type III MSD. All waste water inside the three mile limit requires treatment or holding of the waste. A complete list of Federal No Discharge Zones can be found on the EPA web site.
Rebuild/repair costs – When choosing high quality manual marine toilet, remember to look at availability and costs of repair parts. Many manufacturers repair kit is as expensive as toilets itself and they do not sell individual parts. Why to pay for a kit when you may only need one part.
Backflow – Low quality Joker valves and flapper valve means dirty water back flowing into toilets. A good designed toilet should give you trouble free service and less frequent replacement of joker and flapper valve.
Watch Our Marine Toilet Video Below