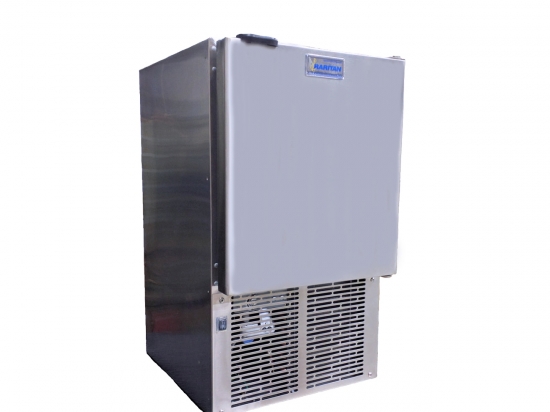 Additional Important Information:
Eco-Friendly Refrigerant:
The Model-88's use of R600a refrigerant is a wise choice that aligns with both environmental best practices and upcoming regulatory requirements. This decision significantly reduces ozone depletion potential making it an ideal sustainable option for marine applications. By choosing this eco friendly alternative over traditional options we can all contribute to creating a healthier planet.
Optimized Water Consumption:
The Model-88 is a remarkable piece of equipment that has been designed with efficiency in mind. Despite its high ice output it manages to consume only 2 gallons or less daily making it an excellent choice for marine environments where water conservation is critical. With such impressive performance this machine stands out as one of the best options available on today's market.
High Ice Output:
The Model 88 is an exceptional ice maker that can handle any occasion with ease. With its daily output of up to 21 lbs it has proven itself as a reliable source for all your ice needs. Whether you need enough ice for everyday use or just want some extra chill at parties this machine will deliver! Don't settle for anything less than the best - invest in the Model 88 today and experience unparalleled convenience when it comes to making ice.
Durability in Design:
Built with durability in mind this design incorporates marine grade components throughout its construction. From hinges to fasteners every element is carefully chosen for endurance against the corrosive sea environment ensuring long lasting performance and reliability.
Hygienic Operation:
The Model-88 is designed with hygiene in mind. Its positive catch door latch ensures that the ice remains clean and safe by preventing any potential contamination from external elements. This feature guarantees a tight seal which makes it an ideal choice for those who prioritize sanitation above all else. With this machine you can rest assured knowing your ice will always be fresh and pure.
Generous Ice Storage:
For any ice enthusiast or business owner who relies on consistent access to high quality crescent shaped ice the Model 88 is a must have. With its generous storage capacity of up to eleven pounds this machine ensures that you'll never run out when you need it most! So why wait? Invest in your future success by investing in this top notch product today!
Manual Defrosting Feature:
The Model-88 is a smart choice for those who prioritize reliability. Its manual defrosting feature allows users to continue using the appliance even during unexpected power outages by utilizing its built in door prop function. This ensures uninterrupted performance at all times. Don't settle for anything less than excellence - choose the Model 88 today!
One-Year Limited Warranty:
Raritan stands behind every purchase with a one year Limited Warranty that reflects our unwavering confidence in the products durability and performance. This guarantee underscores our commitment to providing top quality solutions for all your needs. Rest assured knowing you have Raritans backing on each product purchased from us!
Technical Support:
Our dedication to customer satisfaction extends beyond the initial purchase of our Model 88 product. Our team of technical experts is always available for any questions or concerns you may have ensuring that every user feels valued and supported throughout their experience with us. We take pride in providing exceptional post sale assistance as part of our commitment towards excellence. With us by your side rest assured knowing that help is just a phone call away!
Environmentally Conscious:
Raritan is dedicated to preserving the marine ecosystem beyond just this product. Our legacy and range of solutions demonstrate our unwavering commitment towards safeguarding oceans and their inhabitants from harm. We are proud of what we do!
Icer-Ette Model 88
Raritan Engineering's Model-88 Ice Maker - Marine Ice Production Excellence
In the vast and unpredictable world of marine environments certain equipment is indispensable. Raritan Engineering's Model 88 Ice Maker stands out as one such essential product crafted specifically for these unique challenges posed by boating excursions. This ice maker combines exceptional performance with durability while also being environmentally conscious making it an excellent choice for those who need a reliable ice maker that has the needed ice for any occasion while on board. With its innovative design features this ice maker has become a must have item among experienced sailors around the globe. So why settle for anything less than excellence when you can invest in something that will truly meet all your needs? Choose Raritan's Model 88 ice maker today!
Marine environments are notoriously tough on marine appliances. Constant exposure to salty air and relentless humidity coupled with constant movement make it imperative for any device used in these areas to be resilient enough to handle such challenges. The Model 88 is designed specifically keeping this fact in mind - its construction and components have been carefully chosen based on their ability to resist corrosion caused by sea elements over time. This ensures that your investment remains protected from harmful impacts of marine conditions while providing long lasting performance. With high quality parts hardware made especially for use at sea, the Model 88 promises durability like no other product available on the market today! So why settle for anything less when you can choose something built to last? Make an informed decision and opt for the best option out there- Rarit's Model 88!
The Model 88 is a testament to the fact that efficiency and resilience can coexist. Despite facing harsh conditions it consistently delivers top tier ice production using only an average of 2-3/4 gallons daily. With up to twenty one pounds worth of freshly made ice available at all times you'll never run out when hosting parties on deck or enjoying fishing trips with friends! This marine ice maker proves that high performance doesn't have to come at the expense of sustainability - its truly remarkable!
Raritan's dedication to environmental sustainability is reflected in its decision to use R600a refrigerant for the Model 88. This move aligns with forthcoming EPA regulations while demonstrating our unwavering commitment towards protecting nature. By choosing this environmentally friendly option we minimize any negative impact on ozone depletion levels ensuring that future generations can enjoy a healthier planet. We are proud of our efforts and encourage others to join us in promoting green practices across industries worldwide. The time has come for collective action towards preserving our natural resources - let's work together!
The Model 88 Ice Maker by Raritan Engineering is not just any marine product; it embodies a commitment to marine centric design, performance focus and sustainability. This machine delivers an effortless ice making experience that you can rely on time after time. Make the smart choice for your boat or yacht - choose the Model 88 today!
You Might Also Like
Frequently Purchased Together