Marine Toilets
https://raritaneng.com/en_US/product-categories/electric-marine-toiletWhen it comes to choosing a marine toilet system we know that you have many choices. While Raritan used to dominate the original equipment list on most boats we saw a shift in the early 90's to vacuum toilets. The tide has begun to turn and the realization that there are many choices in the market make it difficult for consumers to decide on what brand they would like. Ironically many boat owners do not even know what brand of marine toilet they have on their boat. Since the late 1950's Raritan has been designing and selling products that withstand the test of time and hold up to a variety of uses. Many types of boaters exist and meeting the needs of all has always been one of Raritan's goals.
When deciding on a marine toilet there are many factors to consider. Some prefer to not use any electric power and the only choice would be a manual marine toilet. Raritan was the first to introduce a manual marine toilet that uses pressurized fresh water. For years the only option in manual marine toilets was to use outside raw water. The disadvantage to that is that with most raw water applications comes a rotten egg smell each time you flush the toilet after being gone from the boat for any period of time. While there is no longer a huge market for manual toilets Raritan still saw the need and decided to produce a toilet for those customers that want to be able to flush with pressurized fresh water and have a manual toilet.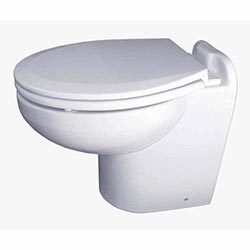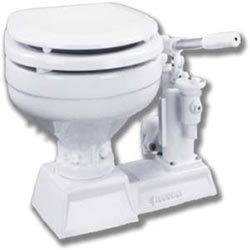 Electric Marine Toilets
The most common marine toilet is an electric model but the list of choices can be overwhelming. Many things must be taken into consideration when choosing an electric toilet. The first and most important is whether or not to use onboard freshwater or outside raw water. Remember, outside water in salt and brackish areas will cause odor unless you can treat the incoming water with a product like our KO2 kit. When using freshwater you certainly must be certain that the supply of onboard water is sufficient for all of your needs.
Raritan was the first toilet manufacturer to introduce a Seafresh system. The Seafresh models that we offer in most of our electric toilets allows the user to choose between onboard fresh or outside raw water. The advantage here is that you can use raw water most of the time and just before leaving the boat flush with freshwater to clear all the lines and prevent that oh so common Sulphur smell. Or, you can choose to always use freshwater at the dock when it is plentiful and still be able to use the toilet while underway.
Benefits of Raritan Marine Toilets
Raritan toilets are designed for simple installation and simple maintenance allowing even the occasional boater to have confidence to work on and install the toilet. Some brands prefer that only certified installers work on their products. The beauty of the Raritan product line is that we are simple enough for everyday use while being rugged enough to withstand the abuse of commercial use. We also have a complete line of raritan marine toilets parts should you need replacement in the future
How Does A Marine Toilet Work?